SEPTEMBER 2018 - Pete releases new album 'Walk To The Light' via Worldwide distribution deal with Membran Music Group. Also announcing a solo acoustic tour in some intimate venues in UK for November 2018. Tickets available from www.petemacleod.net/gigs
NOVEMBER 2017 - Pete starts working on new and third album 'WALK TO THE LIGHT'.
AUGUST - OCTOBER 2017 - Pete performs a short UK tour.
MARCH 2017 - Pete's 2nd album 'Crestfallen' has been nominated for Scotland's Album Of The Year Award.
See HERE

DECEMBER 2016 - Pete announces acoustic tour featuring Steve Cradock and new EP 'Goodbye Woman'. Pete and Steve will be performing in London, Manchester and Glasgow. See picture attached. Tickets available from www.petemacleod.net/gigs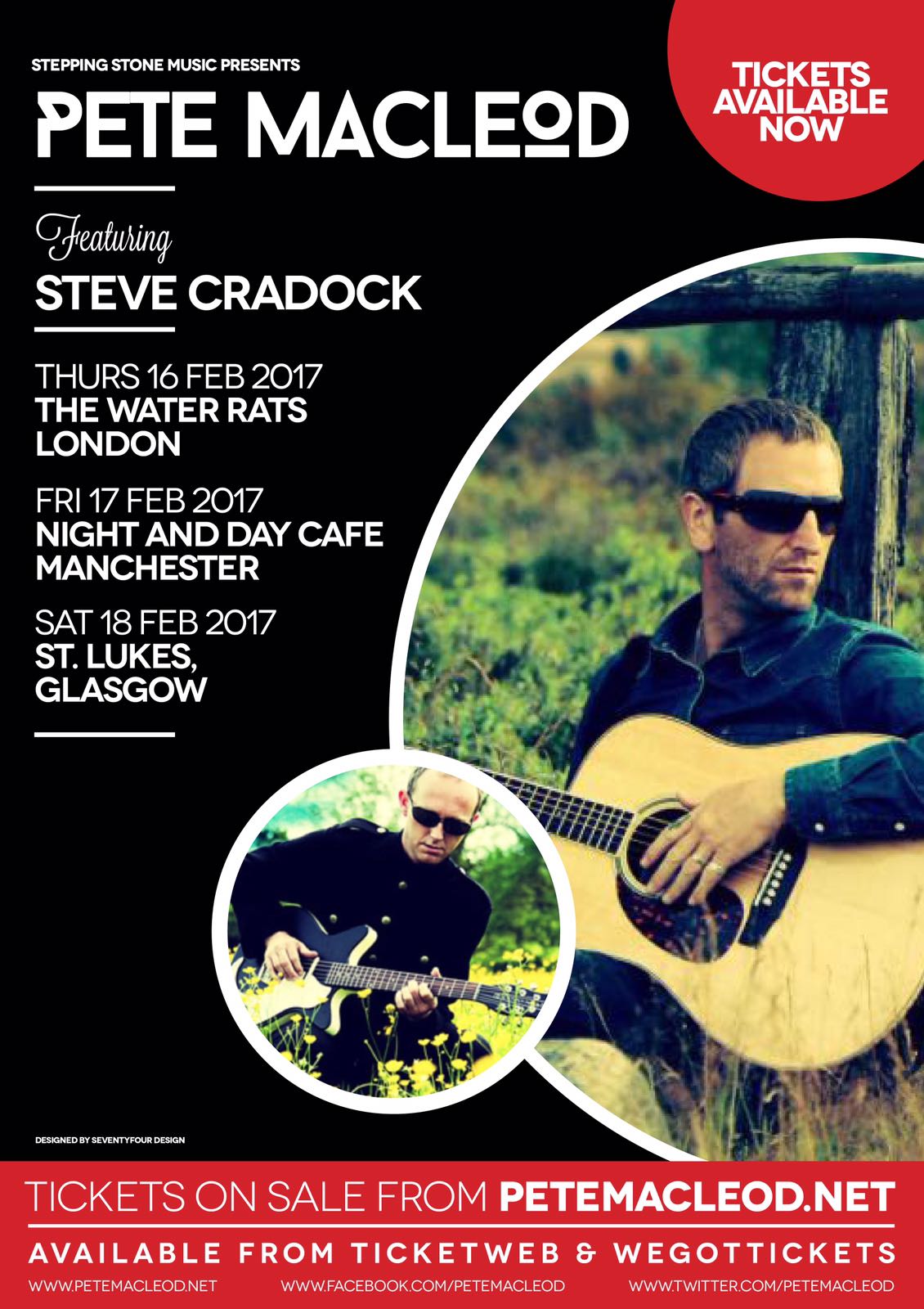 October 2016 - Pete signs publishing deal with Wardlaw Music. http://www.wardlawmusic.com/artist-roster/pete-macleod/

June 2016 - Pete self-releases new album 'Crestfallen' on his label Stepping Stone Music.

March 2016 - Pete announces new single pre-order.
November/December 2015 - Pete joins 'The Happy Mondays' on tour for dates in the UK. The tour was a success.

November 2014 - Pete begins recording his 2nd album with acclaimed music producer 'YOUTH'. YOUTH recently produced the no.1 Pink Floyd album 'Endless River' as well as The Verve's 'Urban Hymns'. http://en.wikipedia.org/wiki/Martin_Glover

June 2014 - Pete announces management agreement with Alan McGee and Creation Management. http://www.creationmanagement.co.uk/

"I'm happy to let people know that I'm going to work with Alan McGee and Creation Management now on the next album. 359/Cherry Red has been an amazing launch pad for me and over the last year I have got closer to Alan and we have decided to work together within the Creation Management context. Where this will lead me, well, truly all bets are off as it's all about making the next record that we will do over the next 6 months. The history of Creation Management is amazing and I am proud to be there with Alan." 

January 2014 - Pete is interviewed by the World famous magazine "Rolling Stone". The publication also features Pete's single Rolling Stone as the first track on a free CD with the magazine. The CD is titled "Silver and Gold".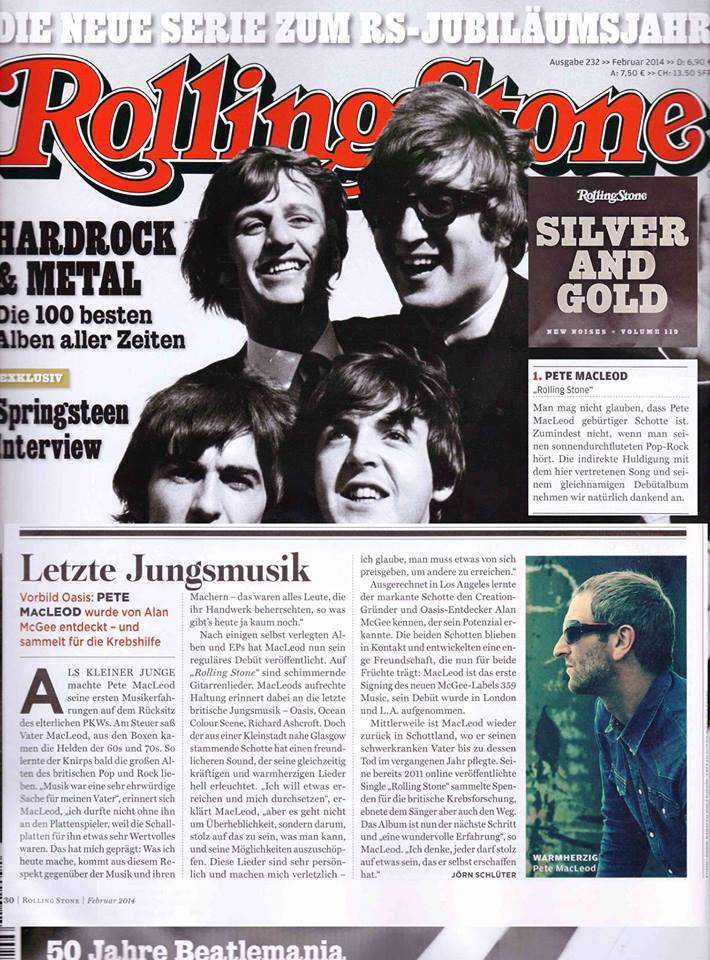 December 2013 - Pete announces some Scottish dates for early 2014.

November 2013 - Pete's album 'Rolling Stone' is now available on Alan McGee's 359 Music. Available from all good record stores, digital download on amazon, iTunes and limited physical signed copies are available from www.pete.macleod.net/shop

July 2013 - Pete announces that he has signed with Alan McGee and his new label 359 music Ltd. 

March 2013 - Pete confirms tour for March which includes dates in Glasgow, (sold out), Hamburg and Los Angeles.

October/November/December 2012 - Pete tours UK solo & as acoustic trio. Also managing to squeeze in some recording in Berlin, Germany with BJM's Anton Newcombe.

May 2012 - Pete announces the following on his website: Hello and welcome to my website. Recently I have self-funded & released the singles titled "Rolling Stone", "God Speed" and "Let It Shine" (with proceeds going towards Cancer Research UK). All three songs are a dedication to my Father who recently became ill with bladder cancer. *PLEASE FEEL FREE TO DOWNLOAD ALL OF THE SONGS MENTIONED ABOVE FROM THE "FREE DOWNLOADS" TAB, (which can be found directly at the top of this page), AT NO COST WHATSOEVER FROM THE 21/05/2012.
*If you feel that you would like to buy the songs and donate, then you can do so by going to iTunes or Amazon. If you feel that you want to help and invest in me making music for the future then you can also do so by going to my shop (which can be found directly at the top of this page) and/or come along to support me in person at one of my shows. It would be great to have your support as a fan of my music. Therefore if you feel that you want to get behind me then please don't hesitate to join my mailing list which can be found on the right hand side of this page. Have a wee look at the videos that were made to compliment the songs. You will find them beside the singles artwork by scrolling down on this same page. Thank-you for all of your support and I hope you enjoy the songs...Pete x

Mar 2012 - Pete releases new single titled 'God Speed'. Proceeds once again going towards Cancer Research UK.

Feb 2012 - Pete confirms acoustic show in Los Angeles for April the 14TH @ Genghis Cohen. A very intimate show.

Jan 2012 - Pete announces home town show in Coatbridge, Scotland, for February featuring former Oasis founder & guitarist Bonehead playing his songs with him on stage. A DJ set from Alan McGee will follow after the show @ Soundwave Studios.

Dec 2011 - Pete will announce some good news at his show on the 23RD at King Tut's, Glasgow. Tickets available from ticketmaster on the link below and from the venue itself.

http://www.ticketmaster.co.uk/Pete-MacLeod-tickets/artist/1050149

2011 - Pete's single "Rolling Stone" get's BBC Radio Scotland single of the month. The song gains around 6 weeks airplay on BBC Radio Scotland and other various radios stations around the UK. Pete goes into BBC studios to be interviewed with the lovely Janice Forsyth along with good friend Alan Mcgee. 

http://www.bbc.co.uk/programmes/b00y8sl1

2011 - Pete's single "Rolling Stone" features in Q magazines top 50 download's. 

http://www.qthemusic.com/cgi-bin/q50/track.pl?id=2315&skin=mflow

2011 - Pete self-releases (digital only) single "Rolling Stone" with proceeds going towards Cancer Research UK. The song get's picked up by Janice Forsyth as BBC Radio Scotland's single of the month and gains a very credible 6 week continous airplay on her show,(Saturday afternoons between January/February across the whole country). Other National and local stations pick up on the track including Radio Clyde, Jim Gellatly's show's, In Demand and Amazing Radio and the legendary and brilliantly run local community radio station, Sunny Govan FM . Q magazine get in touch with Pete again to inform him that they are to put another one of his songs in the top 50 downloads of the month. Pete performs another acoustic solo show in Los Angeles to a very warm welcome. Possibly one of the best solo acoustic show's ever for Pete. Pete forms a band and play's various show's around the UK.

2010 - Pete performs solo acoustic at various singer/songwriter venues in and around the Los Angeles area. One being regarded as the best venue to play for such artists in the West Coast, Hotel Cafe. Pete receives a great response from the audience and performs various encores before leaving the stage with an emotional and grateful goodbye.

2009 - Pete self-releases another digital only EP this time titled "Lost and Found". Talented artist and good friend of Pete's, Nathan Hamill (Mark Hamill's son - The actor who played Luke Skywalker in Star Wars) works with Pete on the artwork for the EP. 

2008 - Pete self-releases a digital only "Acoustic EP". One of the songs on the EP, "Panic", enter's into Q magazines top 50 downloads of the month. With Alan McGee praising the song which was recorded in a cupboard in Pete's apartment in LA. Pete also goes on a (UK) acoustic tour with former Oasis guitarist Bonehead performing on all of Pete's songs. Bonehead add's himself to the growing list of many fellow listeners connecting with Pete's music including Alan McGee, Steve Cradock, Robbie Williams, Jim Kerr, Dave Grohl and many more.

2007 - Pete goes on tour with a band he has huge respect for and one he has always been a fan of, Ocean Colour Scene. Pete also performs his first ever show in the U.S.A (Los Angeles) with indie music label visionary Alan McGee taking in the solo acoustic show and then playing Pete's music on the decks. A good moment for Pete and his music.

2006 - Pete tours the UK with his band. The final date ending on a headline show at Glasgow's ABC1 venue.

2005 - Pete self releases debut album "This Is Modern Soul".

2004 - Pete is invited to perform at Scotland's biggest outdoor festival T in The Park and his single enters into the British charts.

1996 - 2004 - Pete travels up and down the country (UK and Ireland) as a solo artist under the name of thestar69 doing various support slot's whilst performing his own original material.

1996 - Pete performs his first ever live gig on stage. A short performance, playing two of his own songs.


Please check out Pete's twitter and facebook pages (below) for the very latest news.

http://twitter.com/#!/petemacleod

http://www.facebook.com/petemacleod